It's here, it's here!  Since August I've been working behind the scenes on getting my new website ready and I'm happy to announce you can
check it out RIGHT NOW
!  I'll talk more about it below. 
How've YOU been though?  I can't believe we're quickly approaching the end of 2015.  I also can't believe last month I celebrated 6 years of doing music for a living in the Washington, DC area, with an occasional tour here and there.  Let's get to some news!
In this month's newsletter:
Ins and outs of my new website www.brianfranke.com
Dubbed open mic host (again)
Couple O'Shows
When you have a website,
it's like your own home
.  You have to keep up with things, replace old stuff, maintain it, and on occasion you see another place to move to and upgrade.  I'm now using a great website host called
Bandzoogle
, that created a service for musicians to design their own websites with all the tools we need (buying music, ticket sales, etc).  So far I love it and I hope you like the fresh look of my new site.
My goal with the site it to provide more updated content on a regular basis which includes videos, photos, and also a
RETURN of my BLOG "Thinking Aloud"
.  For those who remember I blogged for a couple years quite a bit (2009-2012) and even had some music articles picked up by some well known blog sites.  But I've decided with my new blog it will be about anything really that I am into that you may be too.  It could be sports or politics or life help or about my new interests in learning about mindfulness.  Maybe an occasional rant.
For now,
check out www.brianfranke.com
and feel free to send me your initial thoughts! 
I Dub Thee, Open Mic Host (for the 6th Time)

I've been
hosting open mics
in the area since 2011.  It helps ground me because I started back up playing music at open mics here prior to that.  Plus I like encouraging anyone of any talent level or genre to play music--it's good for your soul :)
I've seen a range of things from people improving their own music and getting their own gigs to folks who just enjoy playing as a hobby.  Sometimes open mics work out (I've run one in Arlington every Tuesday for almost 5 years at
Ireland's Four Courts
) and other times they don't (I ran another for 8 months on a Monday and learned Monday's are not a great day to have one).
So I'm happy to share I'm hosting a new open mic once-a-month at a spot called
Paddy Barry's
in Tysons Corner, VA.  And you guessed it, it's an Irish pub--a very nice one at that.  If you live in the area I hope you come by to play or just to listen.  We have them the
3rd Sunday
of the month from
5-8pm
with sign-ups beginning at 430pm. 
Show Announcements
It's Halloween Saturday and for the first time in a while, I don't have an evening show.  It's a long story, because my duo had one set up then found out on a Facebook post that we had been bumped for a DJ :/  BUT I am playing with
FarAway
earlier that day at a winery.
Saturday, October 31st
2-5pm
Notaviva Winery
Purcellville, VA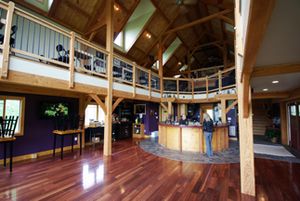 Coming up next month I return to do an original show with
FarAway
.  It's been a while, and I'll make a blog post about the lack of original stuff in 2015, but this is a fun one.  The theme of the night is duo's who are in a relationship.  It's part of a series of shows called
"Basket House"
, which is framed off of shows from the 1960s in the Village in New York City when Dylan and other folk heroes were starting.  Each act will have a basket passed around for you to give any amount of money.
Saturday, November 21st
7-10pm
Cafe Amouri
(a locally owned coffee shop)
Vienna, VA
Other acts:
Third Heart
and
Receiver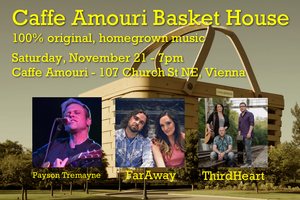 Thank you guys and hope you enjoy the new website!  And if you hadn't noticed, the newsletter design is new too =)  See you out there!
Rock on,
Brian
Other Noteworthy Upcoming shows:

10/31 Notaviva Vineyards Purcellville, VA 2-5p (as FarAway)
11/4 Blackwall Hitch Alexandria, VA 9p-12a
11/14 Heritage Brewery Manassas, VA 7-9p
11/15 The Wine Kitchen Leesburg, VA 12-3p (as FarAway)
11/20 World of Beer Arlington, VA 10p-1a (as FarAway Trio)
11/21 Cafe Amouri Basket House Vienna, VA 7-10p (as FarAway)
11/27 BadWolf Brewing Company Manassas, VA 6-8p (as FarAway)
11/28 Dogfish Head Fairfax, VA 930p-12a (as FarAway)